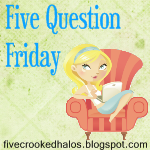 Here I go with the 1st Five Question Friday!! With a morning like I have had I need a little fun! If you want to learn more about it head on over to My Little Life and find out!!

;) And, if you don't have a blog...feel free to answer the questions in the comments below!
----------------------------------
1. What is the one thing that you reach for the most in a day (excluding phones and computers)?
hmm wow I don't know... toilet paper??? I mean really I am female so I need it every time I go into the bathroom. Wait... maybe not, maybe the soap dispenser since I wash my hands a lot more than I go to the bathroom (but every time I go to the bathroom!).
2. What is the farthest you have been from home?
Germany, I went with my parents when I was in 8th grade.
3. What kind of cell phone do you have? Love it or hate it?
I have the Blackberry Storm.... I like it when it works well but it always seems to be freezing, needs to be rebooted or something like that.
4. Coke or Pepsi?
Coke all the way!! Born in GA and Dad at one time worked for Coke. I am not even sure there was a Pepsi product in out house growing up.
5. If you could go back and change anything about your wedding day, what would it be and why?
Wow, this is a hard one. I do not think I would change anything about my wedding (my 2nd one). It was on the beach with only us and my kids. It was absolutely perfect!
Well, there it is, my friends!! Can't wait to read your answers!